Vanilla Blueberry Cupcakes
Serves
Makes 12 medium size cupcakes
Fluffy, egg free, refined sugar free cupcakes!
I'm constantly looking for quick, easy and low sugar treats our family can indulge in. This recipe would have to be the most simple cake by far. It is refined sugar, dairy and egg free (100% vegan) and delicious.
There are some key ingredients I use in most of my sweets that you will see listed below. Let me explain why I choose these. My choice of flour is usually wholemeal however sometimes, white flour works best, especially for these vanilla cupcakes they really are more delicious with white flour. When choosing a white flour opt for unbleached flour.  Often going for half white and half wholemeal is a great option.
Vanilla Blueberry Cupcakes
Serves
Makes 12 medium size cupcakes
Ingredients
250 grams white spelt plain flour
1/2 teaspoon bicarb soda
1 teaspoon baking powder
1/3 cup coconut sugar
3 tablespoons maple syrup
3 tablespoons apple cider vinegar
1 cup aoy milk
3/4 cup melted coconut oil
1/2 cup frozen blueberries
Recipe Notes
Equipment you Need
Mixing bowl
Wooden spoon
Cupcake tin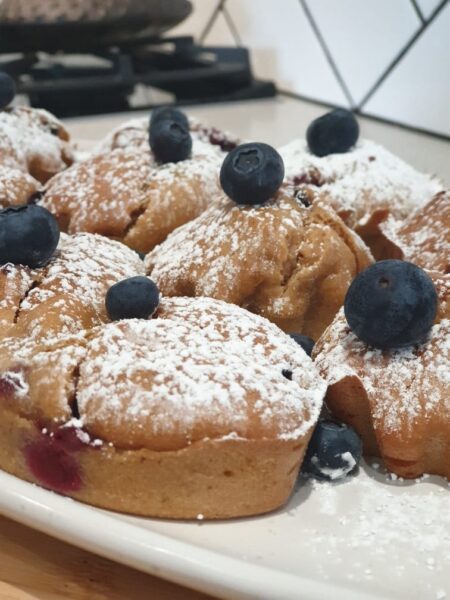 Frequently Asked Questions
Can I use a different type of flour for these vanilla blueberry cupcakes if I don't have white spelt flour?
Yes, you can substitute white spelt flour with all-purpose flour or whole wheat flour, depending on your preference. Whole wheat flour will result in a slightly denser texture, while all-purpose flour will yield a lighter cupcake.
What can I use as a replacement for coconut sugar if I don't have any on hand?
If you don't have coconut sugar, you can use other granulated sweeteners like brown sugar, cane sugar, or even regular white sugar if you're not concerned about keeping the cupcakes refined sugar-free. Keep in mind that different sugars may slightly alter the flavour and colour of the cupcakes.
I'm not a fan of blueberries. Can I use a different type of fruit in this recipe?
Certainly! You can replace the blueberries with other fruits like raspberries, strawberries, or chopped cherries. You can even experiment with diced apples or mashed bananas for a different flavour profile.
Can I use a different type of milk instead of soy or nut milk in this recipe?
Yes, you can substitute soy or nut milk with any plant-based milk of your choice, such as almond milk, oat milk, or rice milk. Choose the one that suits your dietary preferences and taste.
Do I need to let the milk and apple cider vinegar mixture sit before using it in the recipe?
Yes, allowing the milk and apple cider vinegar mixture to sit for a few minutes is important. This creates a dairy-free "buttermilk" effect, which helps in the leavening and texture of the cupcakes. The mixture will thicken slightly and may appear frothy.
Can I make these cupcakes in advance and freeze them?
Absolutely! These cupcakes can be frozen for later enjoyment. Simply wrap individual portions in baking paper, seal them in an airtight container or freezer bag, and store them in the freezer. When you're ready to enjoy, let them thaw at room temperature or warm them up in the oven.