Spaghetti Bolognese Plant-based
Serves
Enough for 4 to 6 people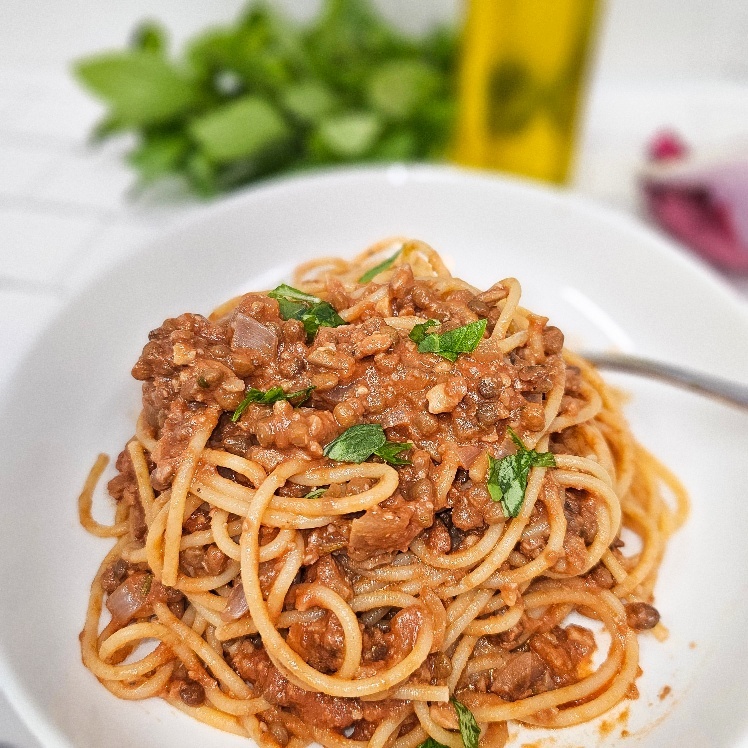 Deliciously Wholesome
I don't know anyone that has refused a Bolognese sauce in their life. I mean, the texture, full-bodied flavour, tossed through carbs, hasto be the most nourishing dish ever. Well, that ended for me when I became vegetarian. 
The bolognese lasagna and home-made fettucine bolognese my mum so often prepared, was off the cards. 😭 I had to find a way to veganise this dish and voila, I did it!
I've made this pasta sauce so many times now.  It's one I teach at Wholesome Bellies because it's so sensational and easy to whip up. Everyone that tries it, says it's better than any meat bolognese they've eaten. And that's a big call. I urge you, give this one
In this plant-based spaghetti bolognese recipe, we're highlighting two important ingredients – walnuts and mushrooms. These ingredients not only contribute to the savoury and hearty flavour of the dish, but also bring numerous health benefits to the table.
Walnuts – rich in heart-healthy fats, particularly alpha-linolenic acid (ALA), which is a type of omega-3 fatty acid. Omega-3s are known for their anti-inflammatory properties and their potential to support brain health. Walnuts are also a good source of antioxidants, fibre, and plant-based protein, making them a fantastic addition to this dish. Their crunchiness is perfect to create a mince like texture.
Mushrooms – often praised for their umami flavour, which adds depth to dishes like bolognese. Beyond taste, mushrooms are a great source of B vitamins, particularly niacin (B3) and riboflavin (B2). These vitamins play vital roles in energy metabolism and cellular function. Additionally, mushrooms contain minerals like selenium, which acts as an antioxidant and supports the immune system. They're also low in calories and provide a natural source of vitamin D when exposed to sunlight, contributing to overall bone health.
Spaghetti Bolognese Plant-based
Serves
Enough for 4 to 6 people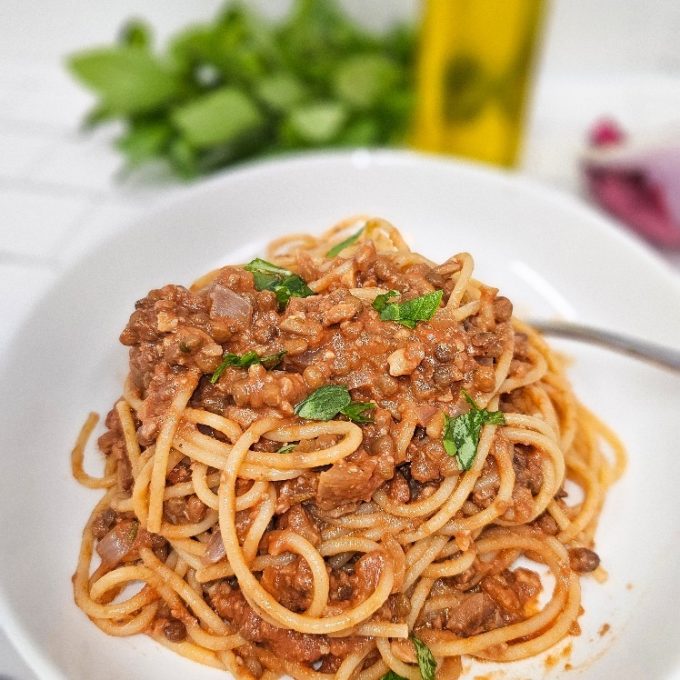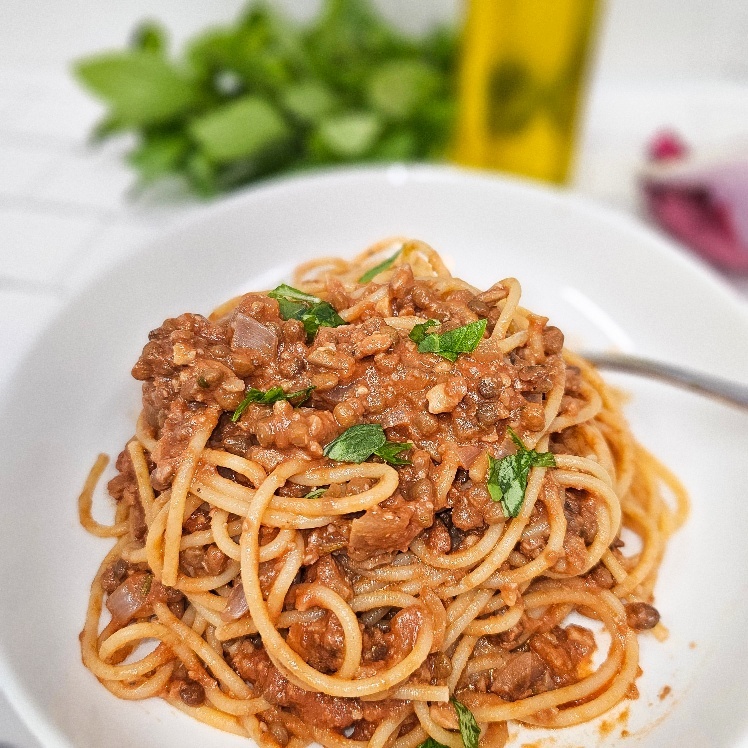 Ingredients
1 cup walnuts
1 chopped button mushrooms
1 onion (medium size)
4 cloves garlic
3 tbsp olive Oil
1/2 cup white or red wine
1 tsp walt
1 tsp italian herbs
1 cup cooked French lentils/Puy lentils
3 1/2 cups tomato passata (or one bottle)
Method
Place walnuts in blender and blitz until they form a crumb.  About six
seconds on high speed should be enough.
 Chop mushrooms in half and then blend slowly to form a mince-like texture. Be careful not to over blend and turn it into a paste.  Blend together for 6 – 10 seconds.  Set aside.
Dice onion and garlic finely.
Sauté onion and garlic in a saucepan with olive oil until translucent.
Add the mushroom and walnut mince to the onion and garlic. Stir trough and cook until the mushrooms start to soften (probably 2 – 4 minutes) depending on the strength of the stove. If your mixture is quite dry you can add some extra olive oil (I'm a huge fan of olive oil, especially in Italian dishes)
 Add wine, salt, and mixed herbs, and cook another four minutes.
Pour in passata and cook on medium heat for approximately 20 mins.  Then add your cooked lentils.
Check the sauce as it cooks and stir frequently so that it doesn't stick to the bottom of the saucepan.
Cook pasta until 'aldente' and stir through your yummy sauce.
Recipe Notes
Equipment you Need
Saucepan for sauce
Saucepan for boiling spaghetti
Strainer
Wooden spoon
Blender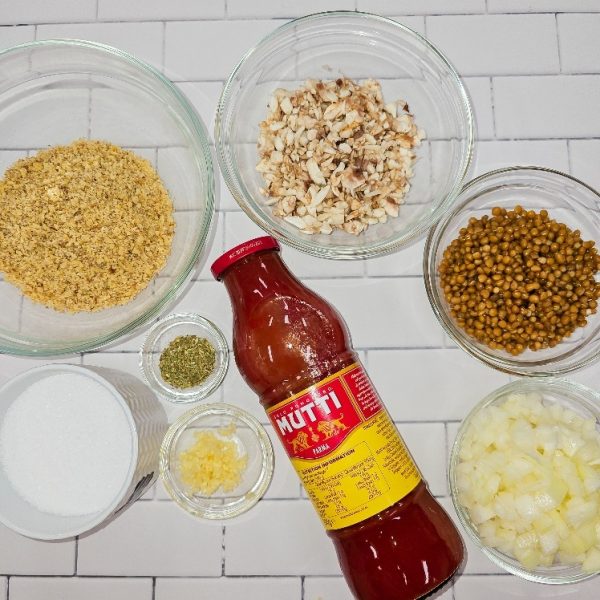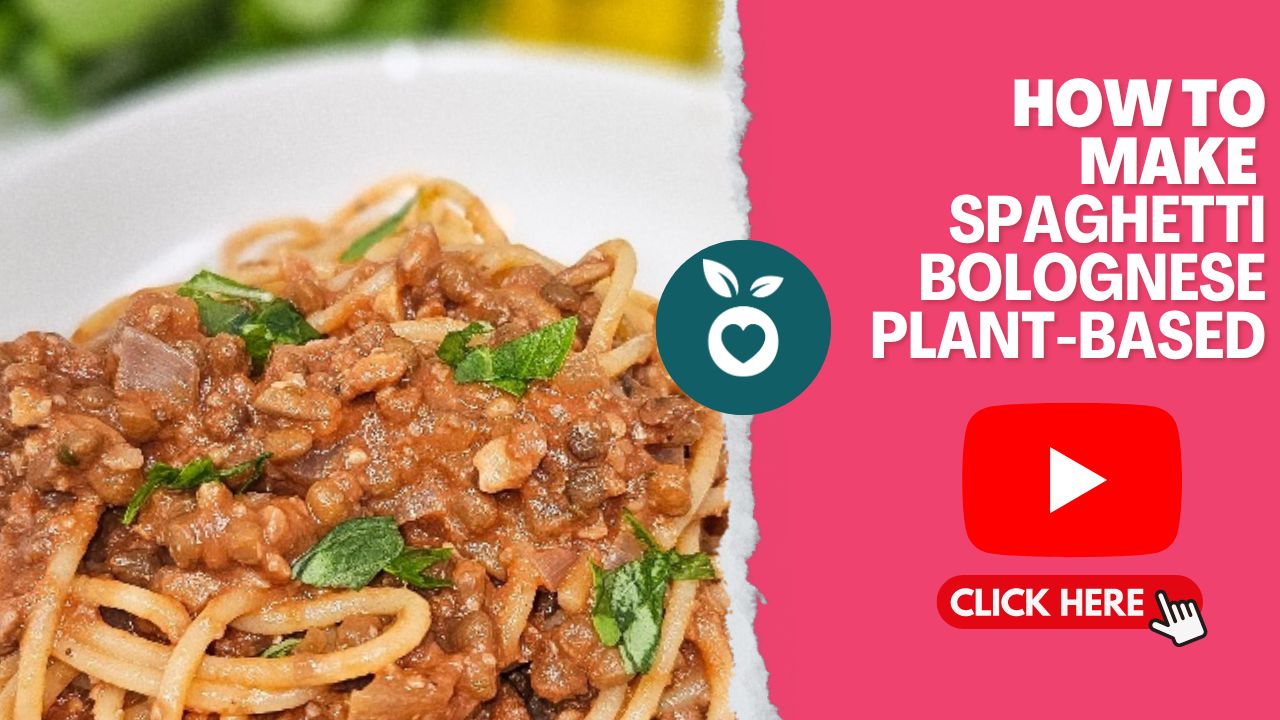 Choosing a plant-based bolognese offers several advantages for your health and the environment. Plant-based diets are generally lower in saturated fats and cholesterol, which can support heart health and weight management. They're also high in fibre and a variety of nutrients that promote overall well-being. By substituting meat with plant-based ingredients like mushrooms and lentils, you're reducing the intake of saturated fats commonly found in meat products. Lentils, in particular, are rich in protein, dietary fibre, and essential nutrients like iron and folate. They add bulk and substance to the sauce while contributing to a balanced nutritional profile.
So how do we make this incredible sauce? Start by creating a walnut crumb using your blender. Then, gently blend mushrooms to create a mince-like texture that adds a hearty dimension to your sauce. Sauté diced onion and garlic in olive oil until they release their enticing aroma and sweat. Add the mushroom-walnut "mince" and let the flavours develop. Enhance the sauce with white or red wine, a dash of salt, and Italian herbs. Allow the symphony of flavours to deepen for a few minutes. Add cooked lentils to the mix. They bring protein and fibre to the sauce, creating a satisfying and nutritious foundation. Pour in the tomato passata.Let the sauce simmer, infusing your kitchen with the best aroma ever!. Finally, toss your cooked spaghetti in the sauce, ensuring every strand is coated with the rich goodness you've created.
For a rich, tomato-infused flavour, opt for passata in glass jars. Don't waste the last drops – simply add a bit of water to the jar, give it a shake, and pour it into the sauce. To enhance the flavourand create bolder flavour, consider using red wine for a robust sauce or white wine for a lighter touch.
As you sit down to enjoy your plant-based spaghetti bolognese, savour the mix of flavours from natural ingredients. With walnuts and mushrooms in the lead, this dish isn't just delicious; it's also a smart choice for your health. Exploring plant-based eating can be like discovering a new kind of magic. Your mind and body will thank you! Remember, each choice in your kitchen can add up to a healthier you.Let this bolognese recipe be a tasty step toward a better life. Happy cooking!
If you're excited to try something new, go ahead and make this plant-based spaghetti bolognese. Share your creations with us too – we'd love to hear from you! Until next time, stay healthy and happy.
Frequently Asked Questions
Is the sauce freezable?
Absolutely, it's freezer-friendly. Store it in an airtight container, and glass works well too.
Can you substitute the nuts?
Yes, you can try different nuts. But remember, walnuts work best for achieving that meaty texture we're after.
Can you add vegetables?
Definitely. Most bolognese sauces include vegetables. Begin with carrot and celery – cook them after the onion and garlic, then add the remaining ingredients.
I don't like mushrooms. What else can I use?
If mushrooms aren't your thing, no worries. Just increase the lentils and walnuts for a satisfying texture and be sure to add the carrots and celery as mentioned above in point 3.
Do I have to use wine?
No, you don't have to. Wine adds depth to the sauce. White wine offers a lighter touch, while red wine gives a rich flavor and color similar to traditional Bolognese. If you prefer, you can skip the wine step without adding any liquid. I often make it for my kids without wine and it's delicious just the same.
Do I have to use passata?
You can use canned tomatoes instead. If you like a smoother texture, blend them first. But if you're okay with some chunks, canned tomatoes work just fine. You'll get a lighter sauce.
How do I adjust the saltiness of the sauce?
Taste as you go! If you find the sauce needs more salt, add a pinch at a time and taste again. Remember, you can always add more, but you can't take it away.
Can I make this gluten-free?
Absolutely! Just swap regular pasta for your favorite gluten-free pasta, or a legume pasta and ensure all other ingredients are gluten-free as well.