Lentil and Walnut Bolognese Lasagna
Serves
Enough for 8 to 10 people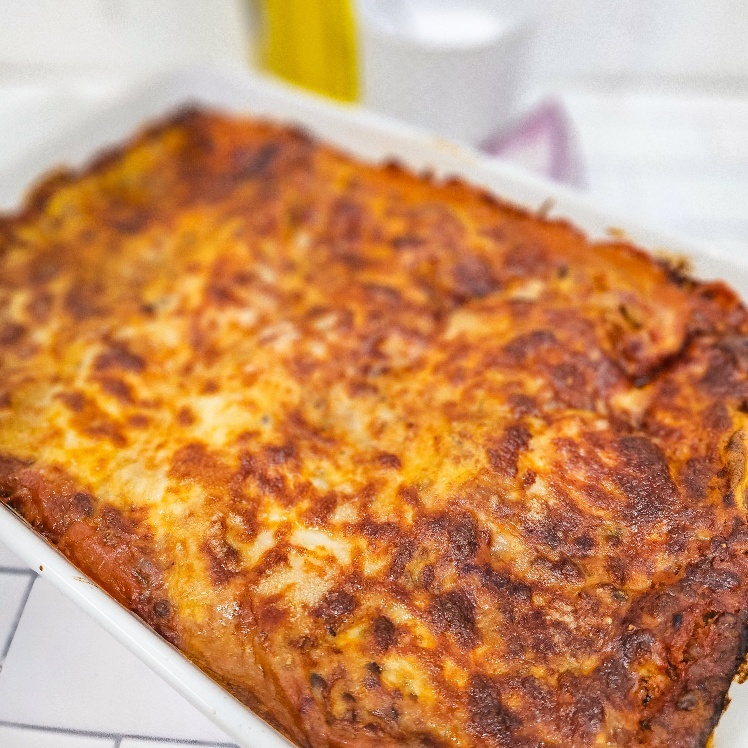 Let's dive right into a classic favourite – Lasagna. I mean, who doesn't have a soft spot for those layers of pasta, sauce, and deliciousness? This isn't your typical Bolognese Lasagna. This is my plant-based/vegan bolognese version that's about to give your taste buds a wholesome ride. So, let's get cooking and create a masterpiece that's not just delicious but also packed with goodness.
We introduced you to a  Lentil and Walnut Bolognese sauce a week back on our website and YouTube channel Did you give it a go?  Well, that's our star player here, and if you missed it, don't worry – the sauce recipe is repeated here for you alongside this sauce, we're introducing a creamy Béchamel/Cheesy Sauce that will elevate your lasagna.
To make the Bolognese start by creating a walnut crumb using your blender. Then, gently blend mushrooms to create a mince-like texture that adds a hearty dimension to your sauce. Sauté diced onion and garlic in olive oil until they release their enticing aroma. Add the mushroom-walnut mix and let the flavours develop. Enhance the sauce with white or red wine, a dash of salt, and Italian herbs. Allow the symphony of flavours to deepen for a few minutes. Add cooked lentils to the mix. They bring protein and fibre to the sauce, creating a satisfying and nutritious foundation. Pour in the tomato passata, a concentrated source of lycopene and vitamins. Let the sauce simmer, infusing your kitchen with a tantalizing aroma. Finally, toss your cooked spaghetti in the sauce, ensuring every strand is coated with the rich goodness you've created.
Lentil and Walnut Bolognese Lasagna
Serves
Enough for 8 to 10 people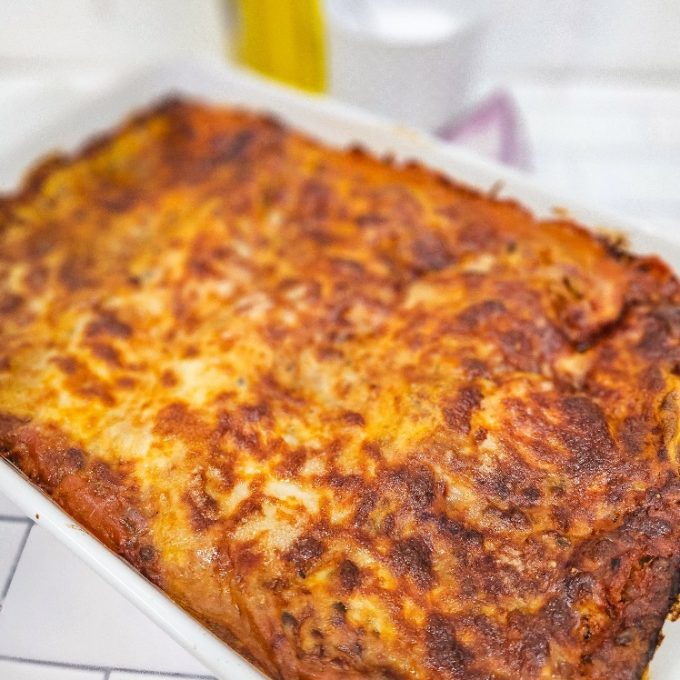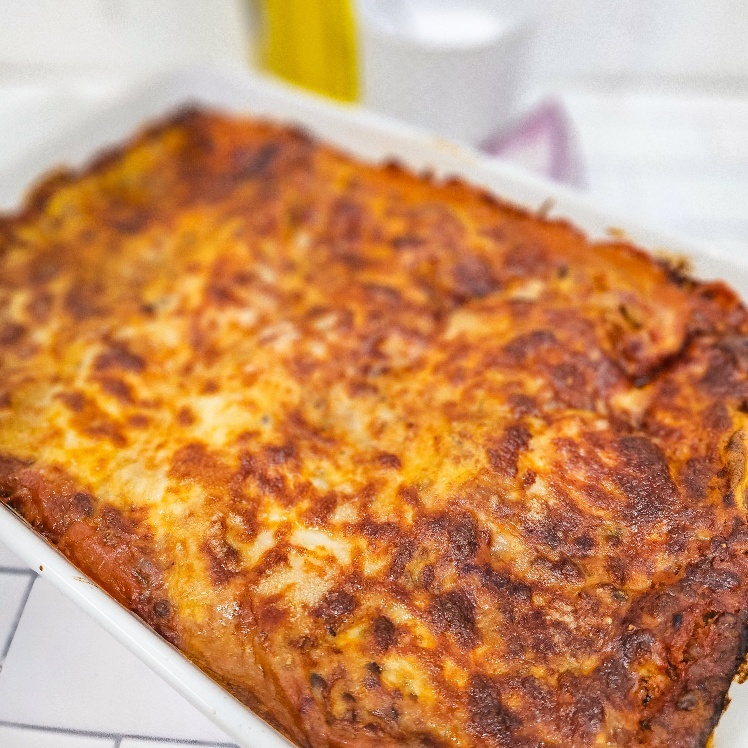 Ingredients
Bolognese Sauce

1 cup Walnuts
1 cup White Mushrooms (chopped)
1 Onion
4 cloves Garlic
3 tbsp Olive oil
1/2 cup White or red wine (optional)
1 tsp Salt
1 tsp Italian herbs
1 cup Cooked French lentils/puy lentils
3 1/2 cups tomato passata (or one bottle)

Bechamel/Cheesy Sauce

1 Potato (230 grams)
1 Sweet potato (200 grams)
1 Onion
1/2 cup Raw cashews
1 tsp Salt
1 tsp Garlic powder
3 tbsp Nutritional yeast
1/4 cup Water (this will be the water reserved after boiling your vegetables)

Lasagna

24 Lasagna sheets (small size)
200 grams Vegan mozzarella (vegan or diary)
1/2 cup Parmesan cheese (vegan or diary)
Method
Bolognese Sauce
Place walnuts in blender and blitz until they start to a find crumb. About six
seconds on high speed should be enough.
 Chop mushrooms in half and then blend slowly to form a mince like texture.
careful not to over blend and turn it into a pate.  Blend together for 6 – 10
seconds.  Set aside.
 Dice the onion and garlic finely.
Sauté onion and garlic in a saucepan with olive oil until translucent.
Add the mushroom and walnut mince to the onion and garlic. Stir trough and
cook until the mushrooms start to soften (probably 2 – 4 minutes) depending
on strength of stove.
Add wine, salt and mixed herbs and cook another four minutes.
 Add the cooked lentils and mix through.
Pour in passata and cook on medium heat for approximately 30 mins. Check
the sauce as it cooks and stir frequently so that it doesn't stick to bottom of
the pot.
Bechamel/Cheesy Sauce
To make the béchamel, peel potatoes and chop into large chunks. Also chop onion in large chunks. Then place potatoes, onion and cashews in a pot of boiling water and boil until soft and tender.
Once boiled, strain (keeping one cup of boiled water aside) then place in a food processor with the salt, garlic powder, nutritional yeast and 1/4 cup of reserved boiling water. Blend until smooth and creamy. Add more reserved water if it's not smooth enough.
To build the lasagana, place a thin layer of bolognese sauce on the bottom of your tray, just enough so that the tray is thinly covered. Then place6 lasagna sheets on top of the sauce. Cover your sheets with a layer of bolognese sauce and then about two ladles of bechamel sauce then top with a small amount of vegan mozzarella.
Continue this process and build the lasagna with four layers.
Bake in oven for 30 minutes at 180 degrees.
Recipe Notes
Equipment you Need
 Saucepan for sauce
Second saucepan for cheesy bechamel
Strainer
 Wooden spoon
Bender or food processor
Tray for baking the lasagna
Grater for the mozzarella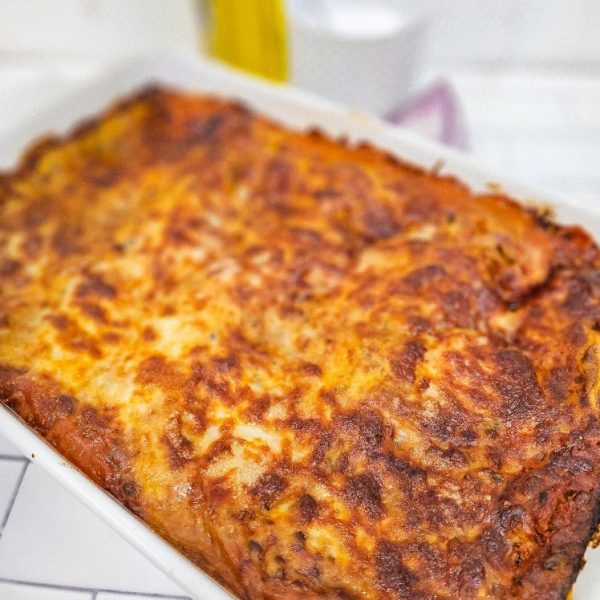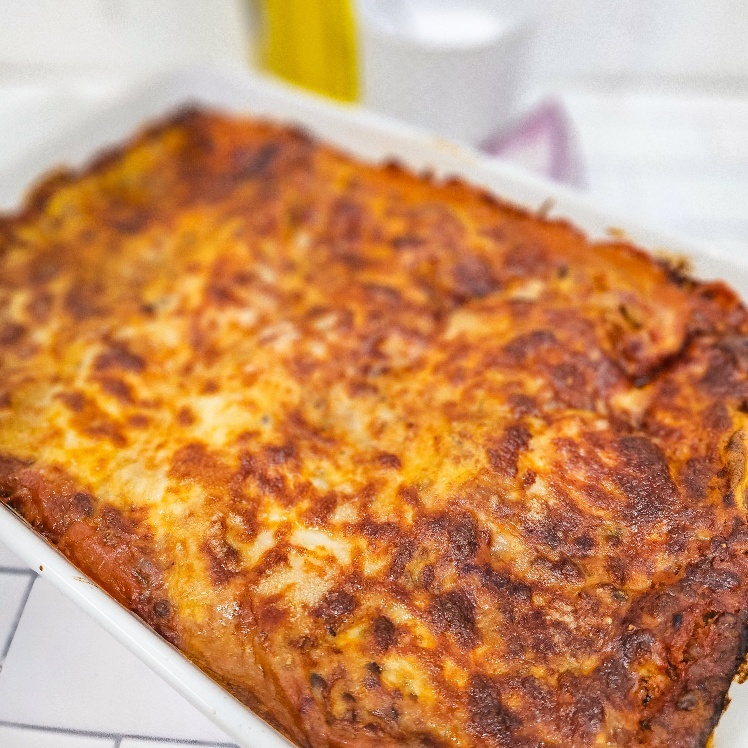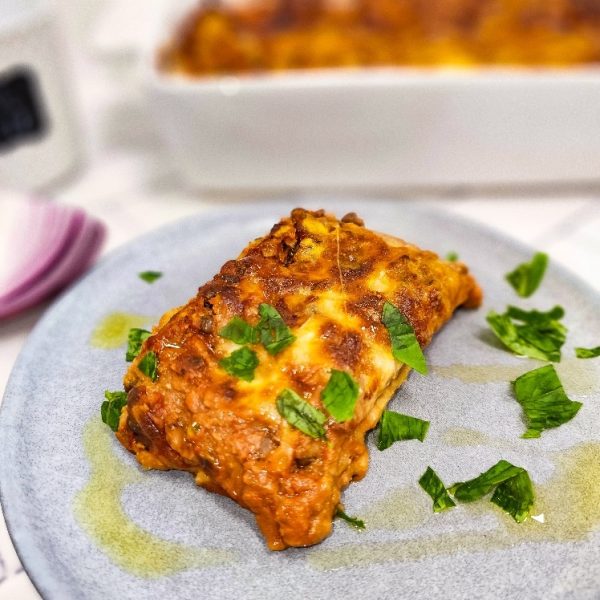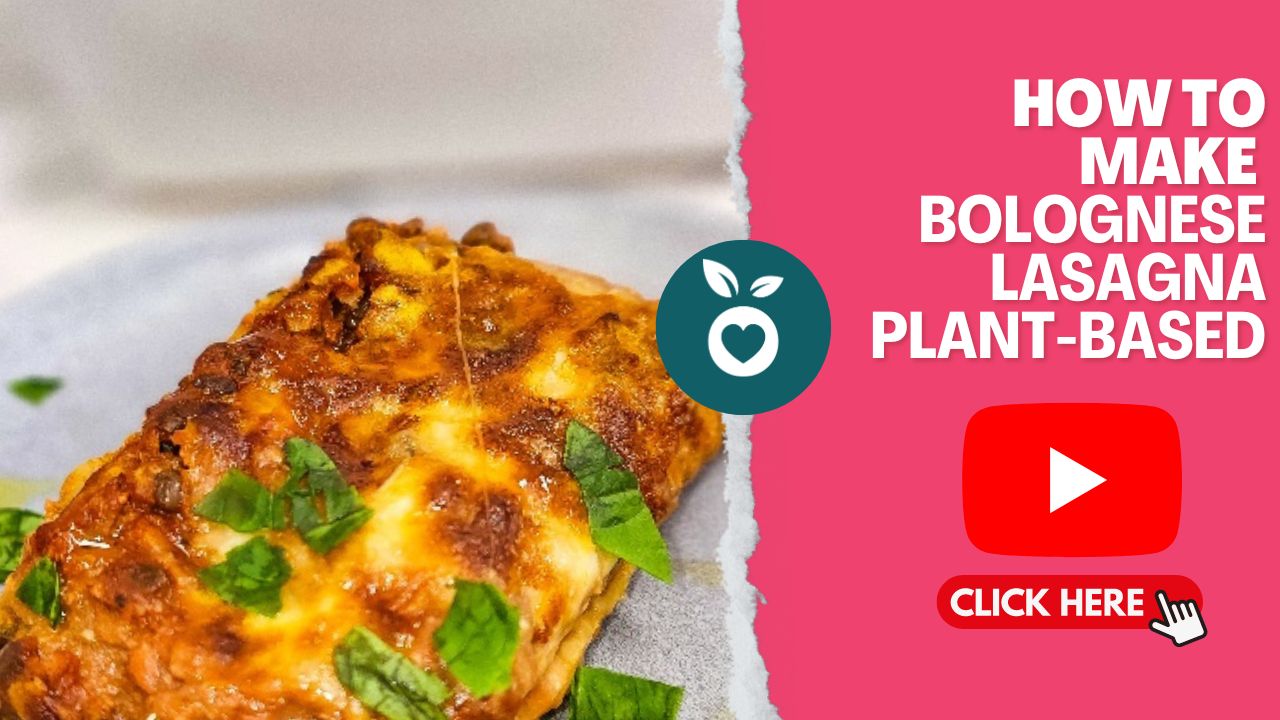 Now to craft the Béchamel/Cheesy Sauce  Let's start by peeling and chopping a regular potato and a sweet potato into generous sizes. The same goes with theonion – chop it up into large pieces. Boil these potatoes, sweet potato, onion, and some raw cashews until they become tender and soft. Once boiled, strain (reserving a cup of boiled water), and into the food processor they go. Add a teaspoon of salt, a dash of garlic powder, three tablespoons of nutritional yeast for that cheesy flavour and about a quarter cup of water. Blend away until you achieve a smooth, creamy concoction. If the texture isn't smooth enough, add more of the reserved water until it reaches a smooth, like consistency.
Now comes the fun part – assembling our lasagna. Start with a thin layer of the Lentil and Walnut Bolognese Sauce coating the bottom of your baking tray. Just enough to create a delicious foundation. Then, arrange four to six lasagna sheets on top (depending on the size of your sheets.  Often I have to snap some sheets to get them to fit.  Top the lasagna sheets with a generous layer of our bolognese sauce and a generous size ladle of the Béchamel/Cheesy sauce.  Using a spatula blend these two sauces together to cover the pasta.  Add your mozzarella and parmesan cheese.  You can opt for vegan options or dairy here.
The layering continues. with another three layers of your pasta sheets bolognese, cheesy béchamel sauce and more mozzarella total create four layers – I find that to be the perfect amount.
Now, it's time to let the magic happen. Preheat your oven to a toasty 180 degrees, Let it bake for around 30 minutes, while your kitchen gets wrapped in the Italian aroma.
As you take your pant-based Lasagna out of the oven, let it rest a few minutes before cutting it up – I know that's the hard part – waiting!
Let's quickly chat about the health benefits of these ingredients, because as you know I'm all about health and vitality. Walnuts, offer a dose of heart-healthy fats, omega-3 fatty acids, and antioxidants, enhancing brain health and promoting overall well-being. Mushrooms provide a unique umami flavour and a wealth of nutrients, including vitamin D, selenium, and immune-boosting compounds. With every mouthful of this lasagna, you're not just indulging – you're nourishing your body.
Frequently Asked Questions
Is it freezable?
Absolutely! Freezing your lasagna is a fantastic way to have a convenient and delicious meal ready whenever you need it. Here's how you can do it: - Prepare your sauce and bechamel. - Assemble your lasagna in a freezer-proof dish, such as ceramic or glass. Cover with a lid or sealed tight with glad wrap or alfoil and place in freezer on flat surface.- When you're ready to cook, you can either bake the frozen lasagna directly from the oven or thaw it out first. - If baking from frozen, extend the cooking time by an extra 10 t minutes. - Alternatively, consider using disposable foil containers with lids to create individual portions of lasagna that you can freeze and cook whenever you crave it.
Can I use different nuts for the creamy bechamel?
Certainly! If you're not a fan of cashews, there are other nuts that can work wonders in creating that luxurious creaminess you're looking for. Some options include: - Almonds without the skin. - Macadamia nutsThese nuts give it a light and creamy texture that can elevate your bechamel to perfection. However, if you prefer a nut-free version, you can omit the nuts altogether. The sweet potato, potato, and onion in the recipe provide a solid base for a deliciously creamy outcome..
What if I don't like nuts?
No worries at all! If you're not a nut enthusiast, you can still enjoy a scrumptious plant-based lasagna. The nuts contribute to the creamy texture of the bechamel, but you can easily remove them from the equation. The combination of sweet potato, potato, onion, and other delightful ingredients will ensure your lasagna remains delectably satisfying.
How do I achieve the perfect lasagna texture?
To achieve that perfectly textured lasagna, ensure that you layer the lasagna sheets, bolognese sauce, and creamy bechamel generously. The moisture from the sauces will help cook the lasagna sheets, resulting in that ideal softness.
Can I use whole wheat lasagna sheets?
Absolutely! Whole wheat lasagna sheets are a fantastic option for those seeking a higher fiber content. They will work wonderfully in this recipe, providing a wholesome twist to your plant-based lasagna experience.
Can I prepare the lasagna in advance?
Definitely! Preparing your lasagna ahead of time can be a time-saving strategy. Once assembled, you can refrigerate it for up to 24 hours before baking. Just remember to adjust the baking time slightly, as a cold lasagna may need a few extra minutes in the oven to heat through.
How do I prevent my lasagna from becoming too watery?
To prevent excess moisture, ensure that your bolognese sauce is well-cooked and not overly watery before assembling the lasagna. To do this simply simmer your sauce longer so that itthickens. Additionally, be mindful not to oversaturate the lasagna sheets with sauce. This will help maintain the ideal texture as the lasagna bakes.