Involtini di Melanzane
Serves
Makes approx. 8 eggplant rolls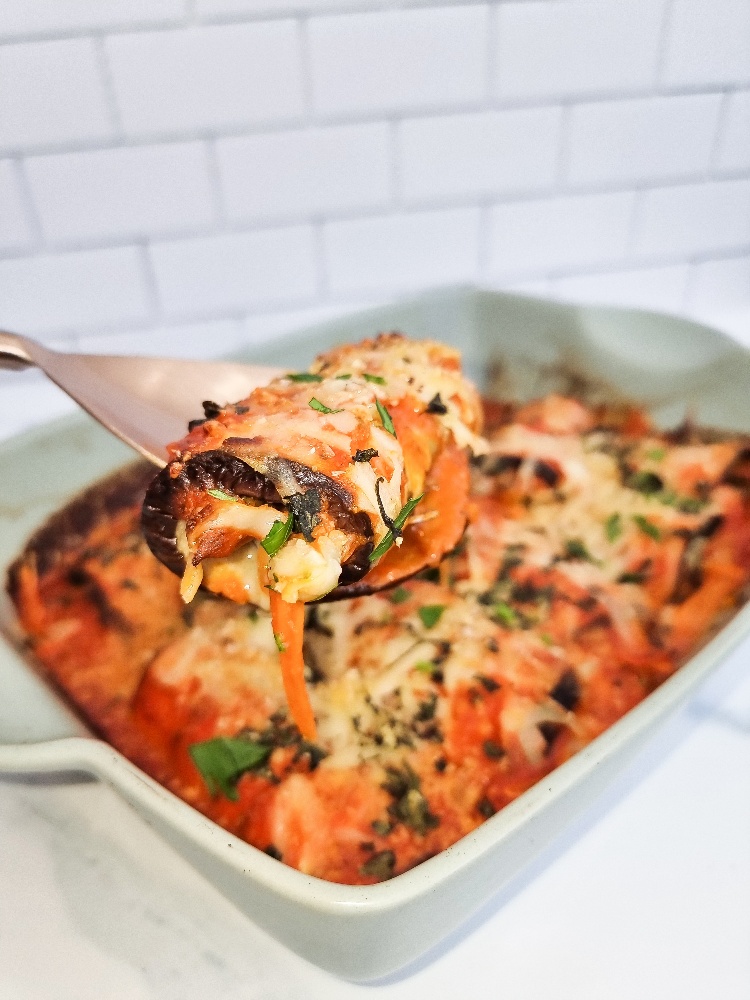 Involtini di Melanzane is a beautiful meatless dish.
When you eat Involtini de Melazane you feel the nourishment and love that its ingredients have. It's light dish and extremely tasty.
Involtini di Melanzane needs some preparation time, but worth every single minute.  Eggplant Involtini is a vegan dish with eggplant and thinly sliced vegetables woven into the eggplant with slices of vegan cheese.
When you're craving hearty, meatless goodness that warms the heart, an Italian classic like Eggplant Involtini will do the job.
Before I became vegetarian mum would always make us a similar recipe, but rather than eggplant she would use sliced chicken breast. Becoming vegetarian 15 years ago has helped me use some of my families' traditional recipes and create a new twist – this time replacing chicken with eggplant.  It's a great option for those nights when you're trying to cut back on meat consumption.
Here's what you need for our Involtini di Melanzane.  A baking tray and chopping board are essential for food prep.  A sharp knife or julienne grater will make the job easier. measuring cups and a grater to grate the cheese – it's much easier than trying to slice it thinly!
We finely slice the eggplant about 1.5 cm lengthway, drizzle with olive oil and salt bake it.  Then we with julienned carrots, asparagus, and basil. Roll them up before topping them with a classic tomato sauce topped with vegan cheese.  Finally, they go into the oven to cook completely for about 10 minutes until soft.
Asparagus is a healthy addition to any recipe. Add one bunch to your Involtini Melenzane for an extra dose of vitamins and minerals.  Adding four leaves of basil to this recipe will enhance the flavor. Our fresh basil gives the dish an extra punch you won't forget! We will also be using passata – or even tinned tomatoes.  Tomatoes are versatile and mild practically a superfood packed with vitamins and fibre, and you're going to consume a high concentration of beautiful antioxidants. There are certainly health benefits you can gain from that.
This recipe is a great way to indulge in a healthy diet. Add mozzarella cheese or your favourite vegan cheese, to make this dish delicious
Eggplants, also known as aubergines, are technically a fruit and belong to the nightshade family of plants. They come in many different varieties, ranging from purple to green and round to elongated.
Involtini di Melanzane
Serves
Makes approx. 8 eggplant rolls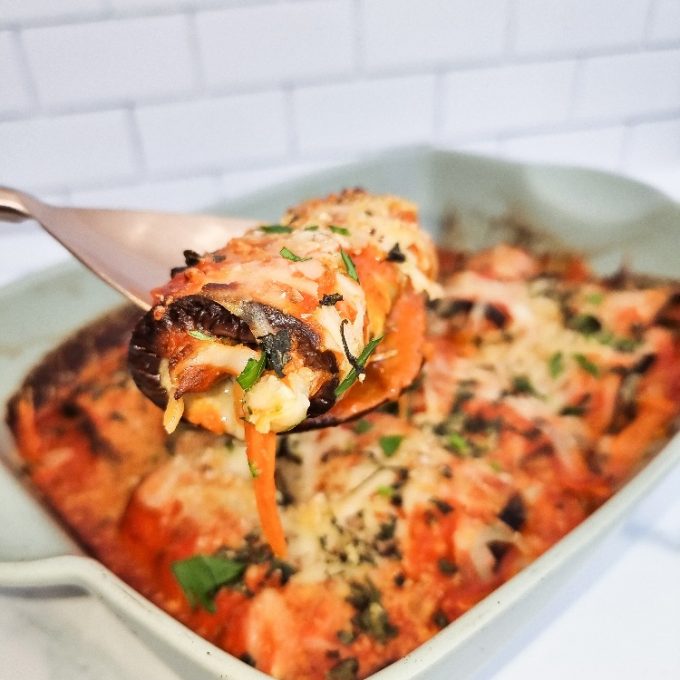 Ingredients
Sugo

1 Onion (medium size)
2 tbsp Olive Oil
1 bottle Passata
1 tsp Salt
4 Fresh Basil Leaves

Involtini

1 large Eggplant (about 600 grams)
1 bunch Asparagus
1 large Carrot julienned
150 grams Nozarella Cheese (or any vegan cheese)
1 tsp Salt
Method
Sugo
Cut onion into small medium pieces and sauté in olive oil until caramelised.
Add bottle passata, basil and salt
Let simmer on medium heat for up to 30 minutes.
Involtini
Slice eggplant into thin slices about 1.5 cm lengthways.
Rub eggplant with infused basil olive oil and sprinkle with salt.
Bake in oven about 10 minutes until soft
Meanwhile julienne the carrots and asparagus.
Once the eggplant has cooled, line the eggplant with a two to three thin slices of mozarella, and three to four julienned carrots and asparagus. Roll up the eggplant.
In a baking dish line bottom with a thin layer of tomato sugo, then place your rolled up eggplants on the sauce, top with sauce and nozarella cheese.
Bake in oven at 180 degrees for 20 – 30 minutes
Recipe Notes
Equipment you Need
Chopping Board
Baking tray
Sharp knife or julienne grater
Scales to weight vegetables
Measuring Cups
Grater to grate cheese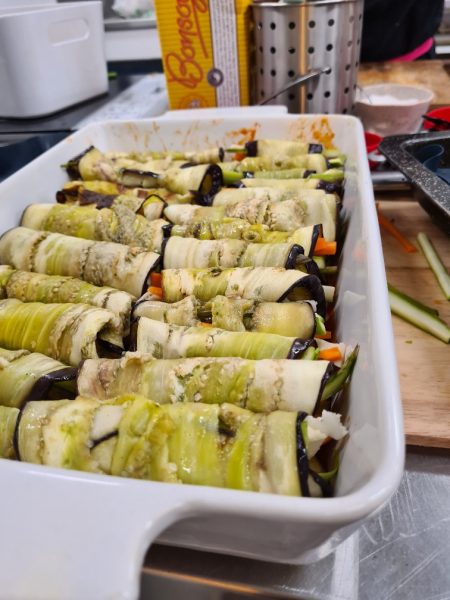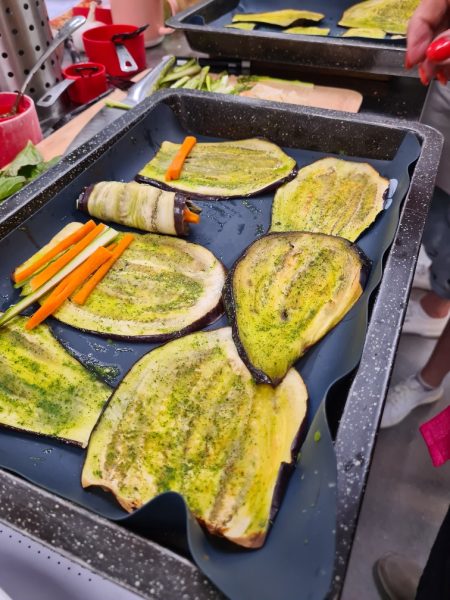 Now let's talk about this incredible plant – eggplant!.
Eggplants are a nutrient-dense food, meaning they contain a good number of vitamins, minerals, and fiber in a few calories. Specifically, this veggie is packed with vitamin C, which helps maintain a healthy immune system as well as vitamin K, which helps build strong bones and blood vessels.
I am often asked "Am I supposed to salt my eggplant".  To be honest, I never do and back in the day, this was a practice often done to help release the bitterness from the eggplant.   If you know my recipes and know me well, by now you'll know that I'm not a very complicated chef, so salting eggplants is just another step I don't have time to do.  And to be honest, I've never cooked eggplant and found it to be bitter. So, let's just make things easy and skip this 'salting eggplant' step!
Eggplant is one of those vegetables that can be overwhelming for people and hard to figure out the best way to cook it.  To be honest, remove those blockages from your mind, grab yourself an eggplant, and create some magic.  It can be used in many different dishes. You can grill or use them in a salad, stir-fry, roast and then blend to make baba ganoush. They're also a great vegan substitute for meat in some recipes.
Some of my favorite ways to use eggplant are in a pasta sauce, with Asian sauces as a stir fry, and rice. I also use it in a Moroccan stew with chickpeas. It's so versatile!
To learn how to make recipes like this and more check out our huge range of vegan cooking classes in Brisbane.  Our vegan cooking school has so many classes and recipes where we can guide you toward a healthy, plant-based diet.
Frequently Asked Questions
How many eggplant roll does the recipe make?
The recipe makes approximately 8 to 10 rolls depending on how large your eggplant is.
How long will they last?
The eggplant rolls should last up to 3 or 4 days in the fridge. Reheat in a microwave or oven.
Can you store them in the freezer?
Absolutely. You can freeze them for up to 4 days. Make sure they've cooked down and then place them in an airtight container and freeze.Then heat straight from frozen in microwave.