A traditional Chinese family dinner presented by the talented Lisa from Saucy Wench!
21 Nile Street, Woolloongabba, 3pm – 6pm
We have partnered up with Lisa from Saucy Wench in Brisbane.  An incredible all round human, incredible cook and Founder and cook at Brisbane's most delicious dumpling and Asian sauce business – The Saucy Wench.
In this class Lisa will so generously share with us all her family secrets and create an incredible Chinese lunch or dinner you can replicate at home.  Using 100% plant-based products, including all sauces you will be blown away with the flavour and ease of these traditional recipes.
The Menu
Braised shiitake mushrooms
Sweet garlic eggg plant
Luo-Han Jai (Buddha's delight vegetable stew)
Stir fried sweet potato vermicelli
Mango pomelo coconut dessert
The class is 100% plant-based. This class is can be gluten-free, simply let us know.  As a vegan establishment the use of nuts in our premises is high.  Please note that our meals may contain traces of nuts.
Please note tickets are not refundable, however if unable to attend you can transfer the tickets to a friend.
YOUR TEACHER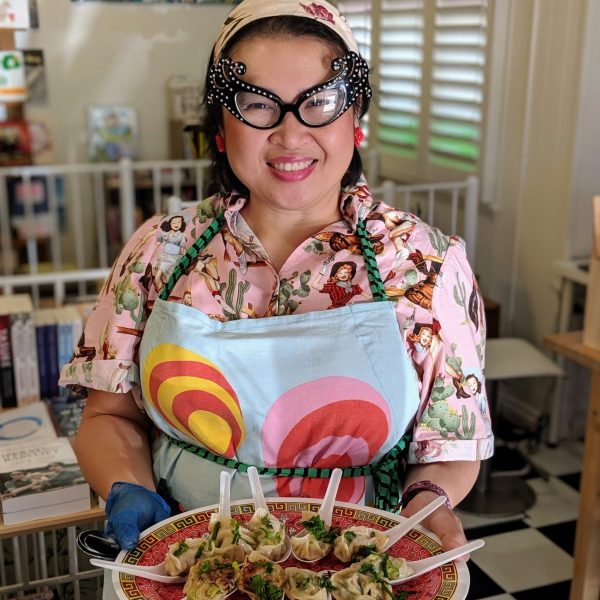 Lisa (aka Saucy Wench) is the Founder of Brisbane's incredible Saucy Wench range of Asian sauces and dumplings.  Hand made in Brisbane her food is of the highest quality. A passionate foodie, Lisa has always been surround by incredible food and her passion is to provide the highest quality food using Australian ingredients and to pass on her knowledge of her food heritage.  She is truly a vibrant human and her love for food and life is infectious!  More about Lisa and Saucy Wench HERE!