I'M KEEN TO DIP MY TOE
Explore the FREE Recipes and get a copy of the FREE e-cook book
 We are all at different stages of this cooking and health journey.  Perhaps you are just beginning to think about eating more vegetables, and just not sure where to start. Or perhaps you just want some new recipe ideas.  Nothing more.
My website if full of free recipes and I encourage you to check them out HERE, try a few of them out and see which ones work for you.  Also be sure to follow me on Instagram and Facebook where I share lots of free recipes, tips and tricks and some live demonstrations.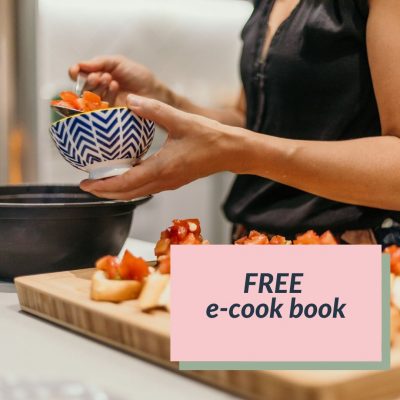 I'M A HANDS-ON LEARNER
Hands on Cooking Class
I get it, learning with others can be so much fun.  If this is you and you just love collaborating and sharing, then join my hands-on cooking classes.  With a maximum or eight people, we'll spend three hours cooking and learning together, and then we'll sit down and enjoy an incredible feast together. 
We'll laugh together, we'll make mistakes together, and we'll get more confident together.
Find out more HERE
A PARTY PLANNER
Cooking Class at your House
Where are all my "life of the party" people?  I know you are out there.   If this is you, then let's create a customised cooking class, at your house, with your friends.  
Invite up to eight people, and let me know what you'd like to cook.  I'll bring the party to your house and you bring the people.  We'll spend a couple of hours learning and cooking together, you'll all get to enjoy the fruits of your labour around the dining table.  I will quietly clean up all the mess and leave you to enjoy the rest of your party. 
Find out more HERE
I WANT FULL IMMERSION AND A GETAWAY
The Retreat
If this sounds like you, check out our weekend Food Cooking Retreats.  This weekend is held a couple of times a year and is exclusive to women.  We'll spend three nights and four days at a luxury boutique accommodation where we'll cook up a feast every day.  We'll also have loads of downtime to relax – read, take longs walks, enjoy chilled out cups of tea and coffee and so much more.  We'll indulge in yoga, workshops and many more surprises. 
Connect with like minded women, make new friends and get away from the hustle and bustle of our every day lives. This is my absolute favourite event.  I promise you, you'll head home more nourished and relaxed version of yourself.
Find out more HERE 
I'M A ONE-ON-ONE KINDA PERSON
Personalised cooking program
Have you just transitioned to a plant-based diet?  Do you love to cook but just need the inspiration and a few ideas to get you going?
Working with me, one-on-one, may just be the perfect solution for you.  Tailored to your dietary needs and budget, I'll create a personalised, step-by-step cooking program, where I teach you to cook plant-based, wholefood meals.
Whether you just want to get a few basics up your sleeve, or perhaps you are keen to dive deep and over 10 weeks we can work together on a weekly basis to learn some new dishes and carve our some weekly meal plans.
Find out more HERE