FREE Plant-based nutrition seminar and cooking demonstration
August 18
@
6:00 pm
–
8:00 pm
FREE Event – Seminar with Kiah Paetz and cooking demonstration with Fiona Anchal
21 Nile Street, Woollongabba, 6pm – 8pm
For some people moving towards a plant-based diet can be overwhelming and confusing. And for others that have made the move already, they may be finding it challenging to keep it up and eat a well balanced diet.
If either of these sound like you, then this FREE event may be just what you need.
Kiah and Fiona's combined knowledge in plant-based eating, nutrition and cooking will most definitely set you up for success. Both are very passionate about plant-based eat, and are here to guide, support and help you in any way they can.
At this event Kiah Paetz, a Plant Based Dietitian and Nutritionist, will talk about the health benefits of eating more plants, key nutrients to be aware of and some simple tips to help you transition to a plant-based diet with ease.
And Fiona, founder of Wholesome Bellies' will demonstrate a couple of quick and simple recipes to show you just how easy it is to create a balanced plant-based meal.
EACH GUEST will get to taste test a couple of dishes and take home some recipes. There will be non-alcoholic drinks, tea and coffee available and light vegan pizza scrolls available to purchase.
As this is free event, we ask that if you book a spot that you please show up – the event is limited to 40 people so if you are unable to attend we'd be grateful if you can let us know.
On the night we will be offering some incredible value deals on consultations with Kiah, cooking classes at Wholesome Bellies and our ready meals!
YOUR TEACHERS
ABOUT KIAH
I'm Kiah, I'm an online dietitian and founder of The PNW Clinic, a virtual nutrition clinic. I work in the areas of disordered eating and eating disorders, gut health, and plant based, vegan and vegetarian nutrition.
I believe that eating should be easy and enjoyable – not the cause of guilt, stress and anxiety!
Like many women, I used to be obsessed with the latest fad diets, food rules and trying to get the number lower on the scales. I felt like I was in a constant war with food and my own body. I was counting calories, caught up in the binge-restrict cycle and feeling anxious and guilty about everything I was eating.
Eventually I was fed up with living with thoughts about every food I had eaten and calorie I had consumed constantly on my mind. I knew it wasn't sustainable, enjoyable and it was starting to have a big impact on my life and relationships.
At the same time, I decided to go plant-based to reduce my impact on the earth. It was through my own recovery journey and learning about the power of plant-based nutrition I am now the strongest, healthiest and happiest I have ever been!
As a dietitian, my aim is to educate, support and inspire my clients to heal their relationship with food and their body, and become the healthiest versions of themselves (whatever that might look like to them!)
I also take a plant-focused approach to nutrition and believe in the power of "eating more plants."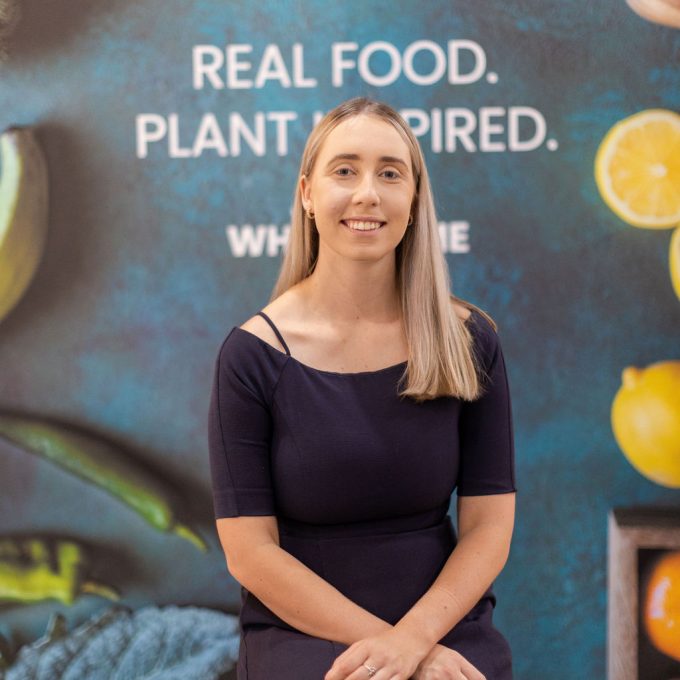 ABOUT FIONA
Hi, I'm Fi, a home cook since my teens, I grew up in the hospitality industry, spending most weekends at our family restaurant. My mum was the head chef and I was surrounded by incredible cooks.
My intention is to inspire you to fall in love with vegetables and learn how to transform plants into mouth-watering, unbelievable meals your friends and family will keep coming back for.
It was in 2007 when my philosophy around food and health took a sharp turn. The sudden passing of my father from a heart attack, prompted me to question everything about health. I couldn't understand why my healthy, 60-year old father was taken from us so early. Six months after his passing, I was at Unleash the Power, a Tony Robbins event, and the last day of the seminar was all about health and vitality. People talk about those life changing moments; those light bulb moments, where something major shifts inside them. That's the best way I can describe that day.
I left that seminar with a whole new outlook on health and well being and dove deep into vegetarianism and a plant-based lifestyle. I slowly moved towards a wholefoods diet, removing meat, seafood, dairy, refined sugars and flours. I learned the healing power of plants and the importance of eating food as close to its whole form.
Over the past 13 years I have continued to educate myself around plant-based eating. I've re-created so many traditional recipes my mum taught me to suit my eating preferences. I've created new flavours and experimented with ingredients that were once foreign to me. Today, my diet is predominately plant-based. I occasionally have dairy. I do indulge in refined pasta and flours from time to time, and still love my sweet treats.