March 22, 2024
@
6:00 pm
–
9:00 pm
21 Nile Street, Woollongabba, 6pm – 9pm
We welcome to Wholesome Bellies, Latin American chef and business owner, Sarina Raidi to our team. We are so fortunate to learn authentic Mexican cuisine from Sarina.
At this class you can expect to learn how to make Authentic Mexican dishes Sarina grew up eating and learned to make from her ancestors. These are not your typical dishes you find at Westernised Mexican restaurants, these are the real deal! In fact, some of these recipes you may have never heard of before.
The flavours are out of this world and each recipe incredibly simple to make.
This class is completely gluten free. Nuts are use in the dessert so please advise if you have any food allergies so we can modify the elements for you.
OUR MENU:
Please let us know if you are gluten free or coeliac so we can be sure to modify the items above to suit your dietary requirements. As a vegan establishment the use of nuts in our premises is high. Please note that our meals may contain traces of nuts.
Tickets are not refundable, however if unable to attend you can transfer the tickets.
About you Teacher, Sarina Raidi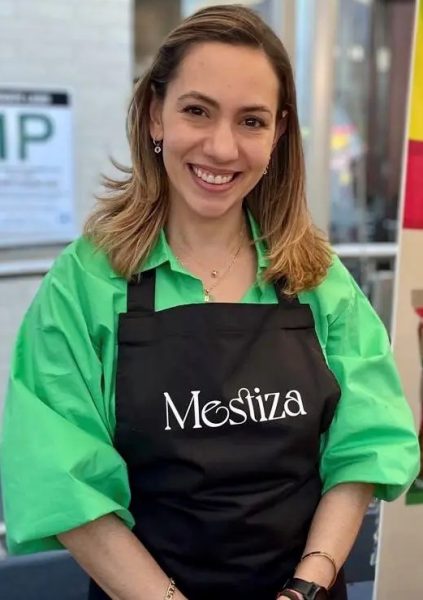 Sarina is Latin American with a rich multicultural heritage encompassing Mexican, Venezuelan, Lebanese, Spanish, and American influences. She is deeply passionate about promoting healthy food and preserving authentic flavours. Her brand, Mestiza, offers a diverse range of Latin American food condiments that are both nutritious and genuine. Based in Brisbane, Sarina produces fresh batches of these condiments every week, prioritizing the use of natural ingredients and avoiding preservatives.
Drawing from her Mexican roots and her extensive experience living in Mexico for over 14 years, Sarina possesses an intimate understanding of various Mexican cuisines and ingredients. This knowledge enables her to skilfully veganize traditional Mexican dishes, ensuring that everyone can savour the authentic flavours in a healthier way.
Through her company, Mestiza, Sarina aims to provide customers with a genuine taste of Latin America while promoting wellness and cultural appreciation.