When I think of chick pea soup memories of my dad flood my heart. It was one of dad's favourites and mine too.
Isn't it funny how a particular dish can transport you to particular moments in time. For me, when I cook this soup I have strong  memories of our family home in Brisbane, when I was studying at Uni.  I was the only one living at home at the time and I was working part-time at our family restaurant. On a Saturday we only opened for dinner at the restaurant and mum would often make this at home for for lunch. The three of us would sit at the table, Dad would have a glass of wine or two.  There was always warm crusty bread and we'd eat and chat, and in that moment, that's all I needed.
What I would do to have that meal one more time!
INGREDIENTS
1 white onion
2 cloves of garlic
840 grams cooked chickpeas (equivalent to two cans)
1/2 cup of can tomato or passata
3 tablespoons olive oil
1 teaspoon salt
1 litre of water
Handful fresh rosemary
METHOD
Finely chop the onion and garlic and saute in saucepan with olive oil until becomes translucent.
Add tomato passata to the pot and cook for three minutes.
Strain the canned chickpeas, and add to the tomato, onion and garlic.  Add the water, a generous teaspoon of salt and the fresh rosemary.
Stir and bring the soup to boil.
Once boiled, reduce to medium heat and let cook for 25 – 30 minutes.
Once cooked, take one cup of the soup and blend in a food processor or high speed blender.
Then add the blended soup back to the pot and cook another five minutes.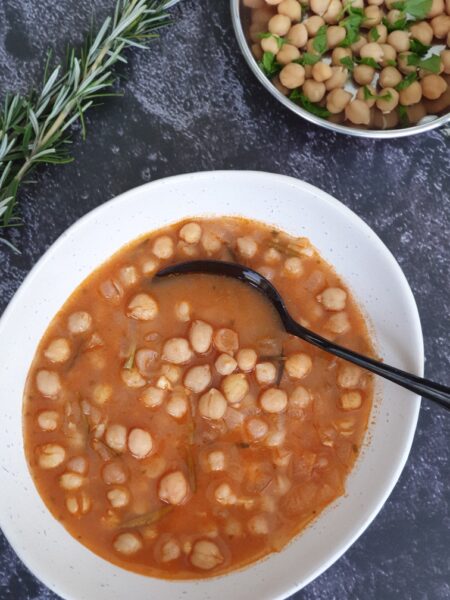 TIPS
• As the chick peas you are using are already cooked, the cooking time may be less than 30 minutes. It really depends on the stove you are using and how rapidly it cooks. 30 minutes is an ideal time to create a flavoursome soup. Keep an eye on it as it cooks.
• Always taste as you go – especially for salt. Some can chick peas are salted so keep that in mind. You can add more salt at anytime, but if it's too salty there is not much you can do to fix that.